London Sour Tangie Cannabis Strain Review
The London Sour Tangie cannabis strain is a completely new strain released and it is a phenotype of Sour Tangie.
First of all, don't be confused by the name as London in the name is an added term to make it appealing. It can also go by the name regular Sour Tangie as well.
This one is a cross between East Coast Sour Diesel and Tangie. It is described as a Sativa-strain that combines the chattiness of the East Coast Sour Diesel with the potent power of the Tangie cannabis strain. Apparently, there are different phenotypes also available where one leans more towards the East Coast Sour Diesel and the others lean more towards the Tangie.
The makers of the London Sour Trangie are DNA Genetics, which are also responsible for creating the Holy Grail Kush.
The Appearance of London Sour Tangie Weed Strain
First of all, the packaging of the London Sour Tangie cannabis strain has been done magnificently. DNA Genetics has done a great job marketing the bag and you can see that quite a lot from all the growers n recent times.
As far as the London Sour Tangie nug goes, it somehow does not look that tidy. There are more scraps of leaves than you would expect and there is the green uniform look to it as well. Not the densest and compact buds that you would expect to see.
However, it looks really organic and has most likely been grown without any PGRs or something that is gonna bulk it out. So the London Sour Tangie manages to preserve this natural look to it. The pistols are sunken into the bud and the bud structure, although nice, is not super developed. It looks as if it is more on the Sativa side based on the bud structure.
It is still a hybrid though, so that influence is sort of creeping in there. It's not as nice as you would expect it to be, but it is still okay.
It looks a bit dusty, but it's not glistening. There are no glistening trichomes but more dusty trichomes. There is not a lot of complexity to the bud at all.
What Does London Sour Tangie Strain Smell Like?
Gauging the aroma of the London Sour Tangie cannabis strain you might be tempted to say that it is the strongest smelling cannabis strain you have ever felt. As soon as you open up the bag the oranges of the Tangie are out in full force. It is really strong limonene, citrusy smell even without breaking it open and this stuff absolutely stinks.
It gives off a whiff of an orange soft drink, like an orangeade or a tango. But definitely 10 out of 10 for smell and that is even without breaking it open.
But let's still break the bud in half. It has a really nice orange aroma as you divide it in half. The smell is still pretty awesome. So when we grind it up we have an orange citrus type of a smell that is almost at the edge of strawberry.
London Sour Tangie Cannabis Taste
In order to taste the London Sour Tangie weed properly, we are going to start things off with a bong.
It offers a really nice smoking experience and is really smooth. You can tell that it is definitely organically grown. Even when you compare it with other different bongs the smoke is pretty good.
The orange comes through, but it is not quite a strong Tangie flavor that you may expect to get. Tangie is a turp monster and you are not feeling it so much with the London Sour Tangie.
Now to try it out with the vape! The taste is more apparent and the Tangie really comes in spades. You can feel the orange as it is more than apparent but it is not only that, there is a hint of grapefruit as well. It is actually something in the middle if you think about it.
This is definitely the phenotype that leans more towards the Tangie side. The East Coast Sour Diesel is not present at all, at least in the taste. You can't feel it that much. There are slight gassy notes. Generally speaking, the flavor gets a ten out of ten and it's really nice both in the vape and the bong.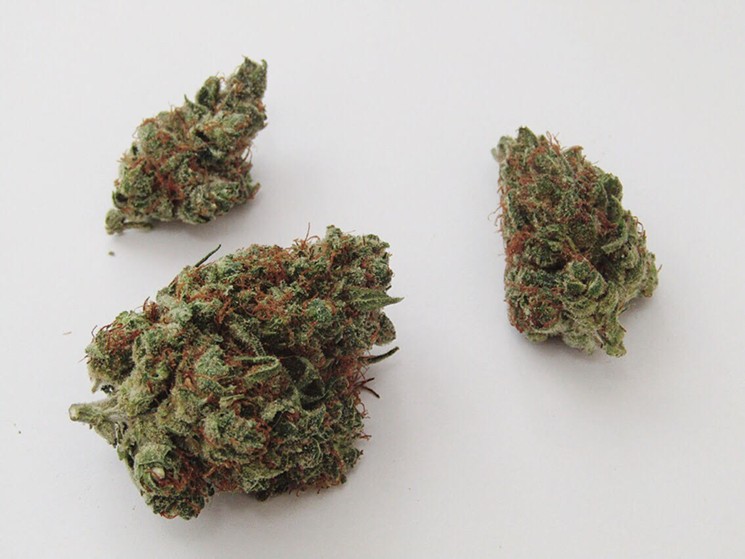 The Effects of London Sour Tangie Weed
Based on the packaging that the London Sour Tanige cannabis strain came it, it is clocking in at 26% THC, which is really nice and strong.
It is definitely leaning towards the Sativa side as you will be feeling the uplift kicking in very nice and quickly. You can notice it only after a couple of minutes. It may surprise you once it starts to kick in as it makes you feel good and happy. It is not a cloudy Sativa it offers a more inspirational-type of a happy feeling.
You will be feeling motivated and it is definitely good for daytime smoking. It is not something that can make you super high and prevent you from doing your work. There is a bit of euphoria, motivation and generally a happy feeling after smoking the London Sour Tangie cannabis strain. It is probably a clear headed type of a Sativa which most likely comes from the Sour Diesel side of it.
All in all, it is a motivational type of smoke!
Sum Up
The London Sour Tangie cannabis strain is a very nice and strong one. It can definitely be used as a daytime smoke but it will show as you will definitely wear it on your face. It will make you feel happy and relax. As far as the taste and smell, it is probably one of the best smelling and tasting cannabis strains that we ever had. It gets all tens in that spectrum. We recommend this one quite fondly.