Guide for Buying Chronic Cannabis Seeds Online
Looking to buy Chronic cannabis seeds online? Before you start your search and buy the first seeds you find, you should know that the better seeds you buy, the better weed you'll get. Yes, quality matters when buying Chronic seeds online and not all seeds for sale are of the best quality.
To make things easier for you, we've developed this Chronic cannabis seed buying guide. We've got all the information you need to know regarding buying these seeds online. We've listed the top websites below where you can buy the seeds you need.
For every website listed below, we've included all the basic information you need to know like seed quality & characteristics, price, payment methods, shipping details, etc. Once you've read our guide, you'll be a more informed and satisfied consumer.
Serious Seeds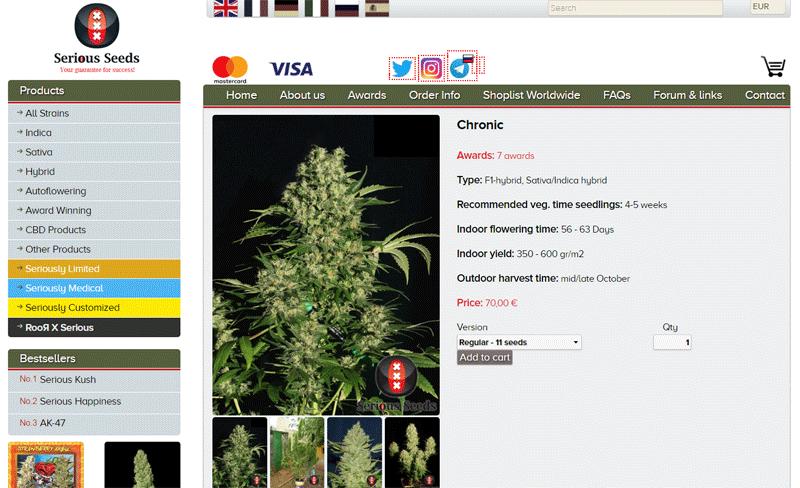 As the original breeder of Chronic seeds, it should come as no surprise that Dutch seed producer Serious Seeds sells Chronic cannabis seeds. Since its grounding in 1994, Serious Seeds' strains have received over 100 awards in different cannabis competitions the world over. The aim at Serious Seeds is to develop easy-to-grow, stable, and homogeneous genetics for medicinal and recreational smokers.
All this brand's seeds are produced in small numbers and are always fresh and hand-selected. It tests every batch of seeds for germination rate and uniformity of the plants before selling them. This is the only company that individually numbers its packages so every seed can be followed from production to the point-of-sale.
Chronic Seed Information
Serious Seeds' Chronic seeds have won several top prizes in many categories in marijuana seed competitions. This Dutch company sells F1-hybrid Chronic seeds that can be grown indoors or out. When grown indoors, these seeds become seedlings in 4 to 5 weeks. When planted outdoors during the spring, the seeds grow into mature plants, ready to harvest by mid to late October.
The indoor flowering time of this company's seeds is 56 to 63 days. The indoor yield is 350 to 600 g/m2. The THC content of Chronic seeds sold at Serious Seeds is between 18 and 22%.
Price
The minimum order for Chronic seeds is 6 feminized seeds for 70€. You can also buy 11 regular Chronic seeds for the same price. These are the only options for buying Chronic seeds at this site. Serious Seeds does not sell Chronic seeds in large quantities nor does it offer a wholesale buying option.
Payment Methods
Numerous payment options are offered at Serious Seeds. You can pay for your Chronic cannabis seeds with your American Express, Mastercard, or Visa credit card. Serious Seeds does not accept debit or prepaid credit cards.
This website also accepts payments via bank transfer. Serious Seeds does accept payment via cash sent as a REGISTERED letter. If you choose the cash option, you will be given specific instructions upon completing your order. Customers with Dutch bank accounts can use the iDEAL payment option. If you choose this payment method when checking out, you'll be directed to the iDEAL site to make your payment.
Shipping
You're given many shipping options at Serious Seeds. You can choose to have your seeds sent to you as a normal letter in the mail with its Standard Shipping method. If you prefer more discretion, you can select the SAFE shipping option wherein your order will be untraceable. If you'd like a tracking number, you can choose the REGISTERED shipping method. For the safest method, choose the SAFE AND REGISTERED option wherein your order will be repacked and sent hidden as a registered letter via Post.nl.
Serious Seeds takes shipping seriously. It packs Chronic seeds in a transparent, airtight tube that is glued or taped to a booklet filled with Chronic information. This company individually numbers all packages with serial numbers. The serial number is used to tell the team at Chronic where the seeds were produced and who they were sold to.
MSNL Seed Bank
Founded in 1999, UK-based MSNL got its start when two friends began growing seeds from strains they acquired over many years of smoking, traveling, and trading across Europe and Australia. MSNL prides itself on selling only the highest pedigree seeds. This seed bank takes your privacy & satisfaction seriously by offering cleverly discreet billing and guaranteed delivery for maximum reassurance.
Chronic Seed Info
MSNL's Chronic bud seeds produce flowering plants in 8 to 10 weeks. These are top quality Chronic cannabis seeds that can be grown indoors or outdoors. The medium plant height is 100 cm to 180cm, with the average THC content ranging between 19% and 22%. These Chronic seeds yield 400-500 g/m2.
Price
The prices at MSNL are very reasonable. The minimum order for Chronic seeds is 10 seeds for £45. If you'd like to order more seeds, you're given many options for buying up to 90 seeds for £405. There's also a wholesale buying option wherein you can purchase 100, 300, or 500 Chronic seeds at discounted wholesale prices. Keep in mind that you will get some free cannabis seeds from MSNL for each order over £55.
Payment Methods
MSNL accepts numerous payment methods including cash, credit card/debit card, Bitcoin, and bank wire. If you'd like to pay by sending cash to MSNL, you must include your order confirmation number along with your cash payment. After placing your order, you'll receive an email with specific instructions and the address to which you must send your cash payment to. All cash payments must be sent 'registered' 'recorded' or 'signed for'. You will receive an email confirmation once your payment has been received.
Shipping
MSNL uses very discreet shipping. Seeds are shipped inside crush-proof containers in normal plain envelopes with no mention of products in or on the package. If you spend over £55, standard shipping is free. Otherwise, standard shipping is £5.95. Stealth Shipping is more discreet and costs £10.95. For £16.95, you can choose Guaranteed Stealth Shipping that comes with package tracking. With this option, your Chronic seeds are hidden in something completely unrelated. If you spend over £250 at MSNL, all shipping options are completely free.
DinaFem Seeds
DinaFem Seeds is a Spanish seed bank known for selling feminized, auto-flowering, premium cannabis seeds. This seed bank strives to provide seeds that fully meet the expectations of the most demanding growers. All the seeds sold on this website are guaranteed to be top-quality seeds that produce high yields.
DinaFem Seeds carries out a meticulous selection, storage, and packaging processes that allows this company to guarantee the quality and conditions of its seeds. If you receive a non-germinating seed from DinaFem, you can return it within 3 months of the purchase date for a full refund.
DinaFem boasts that its seeds have a 99% percent germination rate. This means the chances of you getting a 'bad' seed is less than 1% which are great odds, you'll have to agree.
Chronic Seed Info
DinaFem Seeds' Chronic seeds can be grown both indoors and out. These quick-flowering seeds produce medium-sized plants that yield lots of large thick buds overflowing with sweet-scented resin. While DinaFem doesn't provide the exact THC levels of its Chronic seeds, it does indicate the THC levels as being 'high'.
When planted outdoors, this company's Chronic seeds produce yields averaging 800-1000 g/plant. When planted indoors, you can expect the seeds to flower within 55 and 63 days and provide average yields of 500-600 g/m2.
Price
The base price of Chronic cannabis seeds at DinaFem Seeds is £70 for a package of 11 seeds. It's not clear exactly how many seeds you're allowed to order. If you'd like to place a bulk order, contact DinaFem directly to make an inquiry.
Payment Methods
There are numerous payment options available at DinaFem. The company strongly recommends using your VISA or MasterCard credit card because it's the easiest, fastest, and cheapest of all methods. As an incentive to customers in Spain and France, all seed orders over €30 paid by credit card are shipped free.
Other payment options include bank transfer, COD, cash, and Bitcoin. If you want to pay for your order when it arrives, extra charges will apply for all COD orders. Plus, your order must total under €750 in order to be eligible for COD.
If you want to pay in cash, you'll have to send an envelope via registered mail with the exact amount of your order in cash. If you choose the Bitcoin option, you'll be automatically directed to the cryptocurrency payment gateway operated by CoinPayments for safe and instant payment.
Shipping
Seed orders are sent out safely and discreetly by DinaFem, using padded brown envelopes with no signs of the contents. For European customers, DHL Express is used to ship out orders. For non-European customers, orders are shipped via certified mail with delivery time between 15-30 working days. This company ships to all South American countries except Argentina.
When your order is placed, you can track your package using the tracking number DinaFem provides you with via email. Regarding exact shipping costs, you'll be informed of the costs during the purchase process. You can, however, contact customer service ahead of time for any shipping cost inquiries if you prefer.
Dutch Seed Shop
Considering the liberal marijuana laws in the Netherlands, It should come as no surprise that a leading source of cannabis seeds is a Dutch company. Dutch Seed Shop is a reputable source of pot seeds. This company has won several cannabis cup awards for producing top-quality strains.
Chronic Seed Info
At Dutch Seed Shop, you can buy feminized Chronic seeds that can be grown indoors or out. These high-yield seeds have a THC level of at least 15 percent. While this seed shop doesn't state the specifics regarding average plant height and yield, Dutch Seed Shop has an excellent reputation for selling premium quality pot seeds that grow quickly and produce highly desirable buds.
Price
The cost of a package of 5 Chronic seeds at Dutch Seed Shop is $39.00. A 10-pack of seeds costs $69.00. There is no wholesale option available for Chronic seeds on this website. Therefore, if you're interested in buying Chronic seeds in bulk, you'll have to look elsewhere. Even though there's no wholesale pricing option available, this Netherlands-based company will send you six free seeds on any order totaling more than $100.
Payment Methods
Dutch Seed Shop accepts all major credit cards including VISA and MasterCard. It also accepts bank transfers. If you choose this option, the company will email you its bank details once you place your order. You can also use Paypal to pay for your seeds.
Dutch Seed Shop accepts wire transfers through Western Union. Instructions are sent to you via email regarding how to proceed with a Western Union transfer once your order is confirmed. Other payment options include Bitcoin and cash. No specific details are readily available regarding those two payment options.
Shipping
Dutch Seed Shop ships worldwide via TNT Priority Airmail. All seeds purchased from this company are discreetly delivered in hidden, randomly-chosen items. When you place an order at this site, your seeds will come shipped in plain packaging with no indication of the contents.
Orders are processed and sent out within 24 hours and arrive at their destinations in approximately 5 to 21 days, depending on location. Dutch Seed Shop will send you an email confirmation when your order has shipped. You can check the shipping status of your order by logging into the site with your account.
Bulk Seed Bank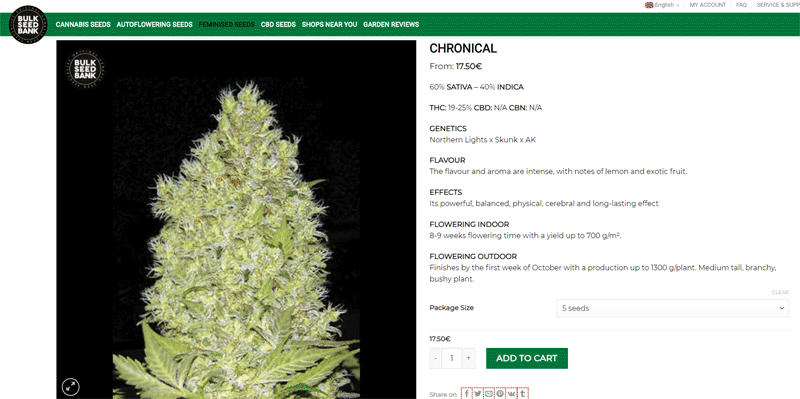 The Chronic seeds sold at Bulk Seed Bank are called Chronicle seeds by this company. However, they're true hybrid Chronic seeds developed by crossing Northern Lights, Skunk, and AK-47 seed strains so don't be confused by the different names.
Bulk Seed Bank specializes in the selective breeding of the world's most famous cannabis strains. This company sells seeds that are produced using only natural organic ingredients, to ensure the seeds are premium quality. When you shop for seeds at this site, you can select the Bulk Seed Bank shop nearest you. There are shops available in many countries and they're all official Bulk Seed Bank dealers.
Chronic Seed Info
Bulk Seed Bank's Chronic marijuana seeds can be planted indoors or outside. The seeds contain an average of 19 to 25% THC. When planted indoors, these seeds flower within 8 to 9 months, with a yield up to 700 g/m2. When planted outdoors during the spring, the seeds are maturely grown by early October with a production up to 1300 g/plant. The outdoor-grown seeds become medium tall, branchy, bushy plants.
Price
At Bulk Seed Bank, you're able to buy as few as 5 seeds and as many as 1000 Chronic seeds. The price of 5 Chronic seeds is €17.50 at this website. You can also buy 10 seeds for €30, 100 seeds for €250, 500 seeds for €1000, or 1000 seeds for €2000.
Payment Methods
Bulk Seed Bank accepts payment via Visa and Mastercard, bank transfer, and cash. If you choose the cash option, you can only send notes/paper money and must use REGISTERED Mail.
Shipping
Bulk Seed Bank offers many shipping options.
European orders are shipped in various ways including:
Standard delivery via registered post
Secret delivery by registered post
GLS express delivery
UPS express delivery
Secret UPS express delivery
International orders are shipped by:
Standard delivery by registered post
Secret delivery by registered post
Of course, the exact delivery cost depends on the shipping option you choose. You can see the various shipping costs on the company's FAQ page here.
All seeds shipped out by Bulk Seed Bank are discreetly packaged. The seeds are placed in a small box with internal padding for optimal protection. There are no website logos or any reference to the contents on the exterior of the package. Only your address and a generic return address are displayed on the package sent to you.
More Sources for Buying Chronic Cannabis Seeds
In addition to the websites listed above, you can also buy Chronic seeds online in the following places.
Amsterdam Marijuana Seeds (AMS)
This Dutch company has a solid reputation for offering high-quality seeds at affordable prices. AMS's feminized Chronic seeds are reasonably priced and available in packs of 5, 10, and 20 seeds. AMS offers guaranteed delivery, free worldwide shipping, and excellent customer service.
Gorilla Seed Bank
You can purchase high-quality Chronic seeds from this UK-based company. The Chronic seeds for sale at Gorilla Seed Bank are high-yielding, feminized seeds. You can buy 1 seed for €20.99, 3 seeds for €55.43, 5 seeds for €83.99 or 10 seeds for €147.83. With discreet and fast shipping, multiple payment options, and top-notch customer service, this is a good place to buy Chronic seeds.
Weed Seed Shop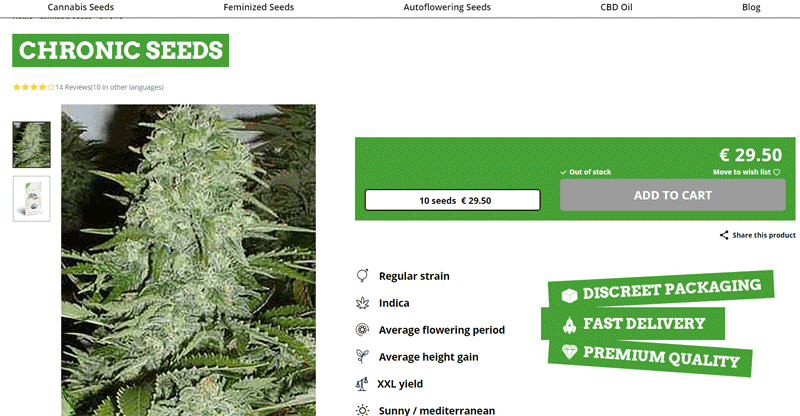 This Amsterdam-based company only sells quality seeds bred from the finest genetics. Weed Seed Shop's Chronic seeds are regular seeds which means they'll grow into both male and female plants. You can purchase a package of 10 seeds for $29.50. This site offers discreet packaging, fast delivery, and good customer service.
Conclusion
Known for producing high yield, premium marijuana plants, chronic cannabis seeds are one of the most sought after seeds available today. Hopefully, this guide for buying Chronic seeds has helped you decide what online shop to use.