Sour Diesel BX2 Weed Strain Review
We have the Sour Diesel BX2 weed strain in front of us and it is actually the second version of the original Sour Diesel strain.
Sour Diesel is actually one of those legendary cannabis strains that are believed to have originated as a hermie seed in a packet that came from a cross of Chemdawg and Super Skunk. So the BX2 is actually the new version of it.
BX2 is short for backcross while Sour Diesel is actually the parent of the Head Banger, which is a very famous Karma Genetics strain. What has been done here is that they used a Sour Diesel female as the mother plant and then crossbred it with a Bika Kush Mawl. After that, it was backcrossed the Sour Diesel with Bika Kush.
So all the locked-in traits are found here in this one!
We are expecting a nice hybrid strain as the Sour Diesel is a very strong Sativa strain. Bika Kush is a strong Indica, on the other hand, so this one is supposed to be more on the Sour Diesel side but it should also have some influence of the OG and Bika Kush.
The Appearance of Sour Diesel BX2 Weed Strain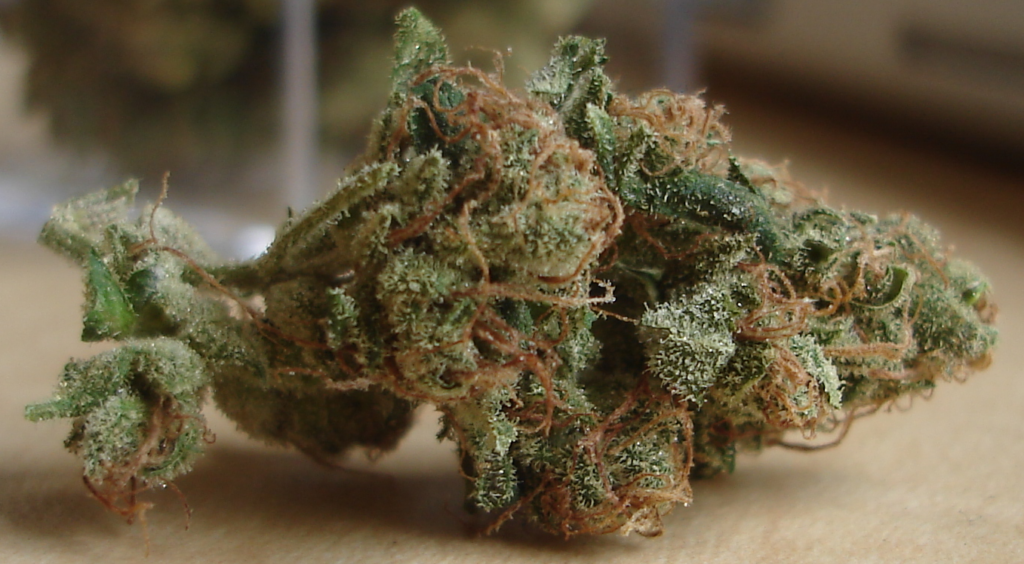 Right of the bat, the Sour Diesel BX2 weed strain looks really nice. The nug is absolutely lovely. It is protruding in all directions, all the calyxes are fighting their way away from the center mass. An interesting thing in regards to the coloration of the nug is that it has more browns in. There are a lot of oranges and browns among the layers of the greens. There is definitely more complexity in the color compared to other more typical strains.
The pistols are there and they seem that they are out in full force but they are not bold, big and wild looking. It seems like the calyxes have sort of a grown over them. The color is light green and the trim job is excellent. The bud has a very good shape to it and the density is very high. It is almost rock solid in fact and there is a bit of a gib to it.
Sour Diesel BX2 buds are very dense and you wouldn't be surprised that it actually weighs a couple of grams in fact.
How Does Sour Diesel BX2 Strain Smell Like?
Initially what you get from the Sour Diesel BX2 weed is this light and nice scent that you would probably not expect to get. It doesn't remind you of Sour Diesel nor Bika Kush.
Undisturbed, the nug doesn't give much away. There are hints of Sour Diesel but it is not terribly strong. It has this old-school smell to it but it's not super pungent. You would actually be safe if you leave it outside as it does not give off any aroma.
However, when we crack the Sour Diesel BX2 in half it has got an incredible amount of pungency that we get in the skunk plants. But it is like a cleaner or a smoother type of pungency that you get from those true Skunky strains. It has got a kind of a gas which is seeping into your nostrils which goes hand in hand with the pungency. There is this oomph, a kicker, making it a bit Moorish and gassy. The Sour Diesel BX2 definitely has this jet fuel burn to the nostrils.
Sour Diesel BX2 weed definitely has that typical Diesel smell to it. Actually, this might be the most easily distinguishable Diesel smell that you would ever smell.
It is very interesting that the Sour Diesel BX2 doesn't give almost any smell before you crack it open as all the smells come rushing out when open.
Sour Diesel BX2 Weed Taste
Tasting the Sour Diesel BX2 strain through the bong we get a clean and gassy hit. The Diesel is really creeping through the bong. The pungency is not there as much but there is this strong expansiveness to it.
But to really get an accurate idea of the taste of the Sour Diesel BX2 or in fact any cannabis strain, it is best to use a vaporizer.
It hits clean, but it hits hard. As if the trichomes on it are expanding through the lungs. It is an interestingly different feeling than inhaling the bong. There is no cough but it is really nice and intense.
There are actually two or three stains that might do this. The gassiness is so strong that makes your eyes water on the very first puff of the vape. Skywalker OG is a strain that might do this to you as well.
It really has a strong and nice flavor and it's like Diesel mixed with weed and mixed with gas mixed with skunk.
The Effects of the Sour Diesel BX2 Cannabis Strain
Basically, the new Sour Diesel BX2 weed strain is strong! The effects kick in after only a few minutes and it is probably going to get even stronger as time passes. It is a Sativa-leaning strain, but it also has those slight Indica traits.
This is a type of strain that you can smoke when you have tons of things to do or if you want to go somewhere and get high but be upbeat.
It is a very social type of strain and it will most likely speed you up. Don't expect it to take you to chill mode.
Let's Sum Things Up
The Sour Diesel BX2 cannabis strain has been a very interesting one to try out. It is very strong and the appearance is nice and cool. The smell is non-existent before breaking it open but the smoking experience makes up for it.
It makes you chatty and you will definitely start bouncing all over the place. The awesome uplift starts and the chattiness follows. It is stronger than you would expect it to so watch out for this one.