Best Strains That You Can Use to Vape
The legalization of Cannabis has spread all over the world now. Many countries worldwide have legalized it as well as a great number of states in the USA. However, it is still demonized in some places even though it is much safer health-wise than tobacco. Medicinal use of marijuana has a lot of benefits and can even prevent some serious ailments from occurring.
For those of you who want to be discrete when consuming cannabis, vaping is the best option. You are not going to be called out of doing it (unless somebody notices the smell) and the feel is different. If you enjoy the taste of different cannabis strains that are available now, vaping allows you to feel the taste as well as the effects. If you haven't tried it yet you should start – first buy a bong and vaporizer at the online smoke shop which would be your first step in getting a quality smoke.
Vaping is far better than traditional smoking and a lot of people tend to agree. It does not only enhance the feel but the taste and the smell of cannabis that you are using.
So we come to the question about which one is best to use. There are plenty of cannabis strains out there these days and they all come with their own unique properties.
Here are some of the cannabis strains that we have found suitable for vaping.
Blue Dream
Blue Dream is a very popular cannabis strain worldwide. It is a Sativa hybrid that comes with a relaxing high. It came to be by crossing blueberry Indica with a Sativa haze. The result is one of the OG cannabis strain from the west coast.
Blue Dream is recommended for both novice and veteran smokers. It does have a high THC concentration so it comes with a euphoric, relaxing, and rather a gentle high. Blue Dream is a very common medical strain as it is used for treating pain, depression, and anxiety.
Girl Scout Cookies
The Girls Scout Cookies is a strain native to California. It is a hybrid strain created by combining Durban Poison and OG Kush. The GSC is a very potent strain and you will recognize it for its earthy aroma. It will cause a very intense feeling of euphoria when consumed and is known for being a very relaxing strain.
The GSC is also very popular in the medical marijuana industry. It has tons of medicinal properties and helps in treating stress, depression, and anxiety as it generally has a very relaxing effect.
Pink Bubba Kush
Pink Bubba Kush is a well-known strain for both recreational and medicinal marijuana users. It is made by combining the Bubba Kush and the Pink Kush, which is also where the strain gets its familiar name. The strain has an amazing aroma and offers a slightly earthy and sweet taste.
The Pink Bubba Kush provides a very euphoric feeling and so it is best consumed in the evening. After the euphoria comes a very strong feeling of relaxation. It helps to deal with stress and certainly is good for people that suffer from insomnia.
Sour Diesel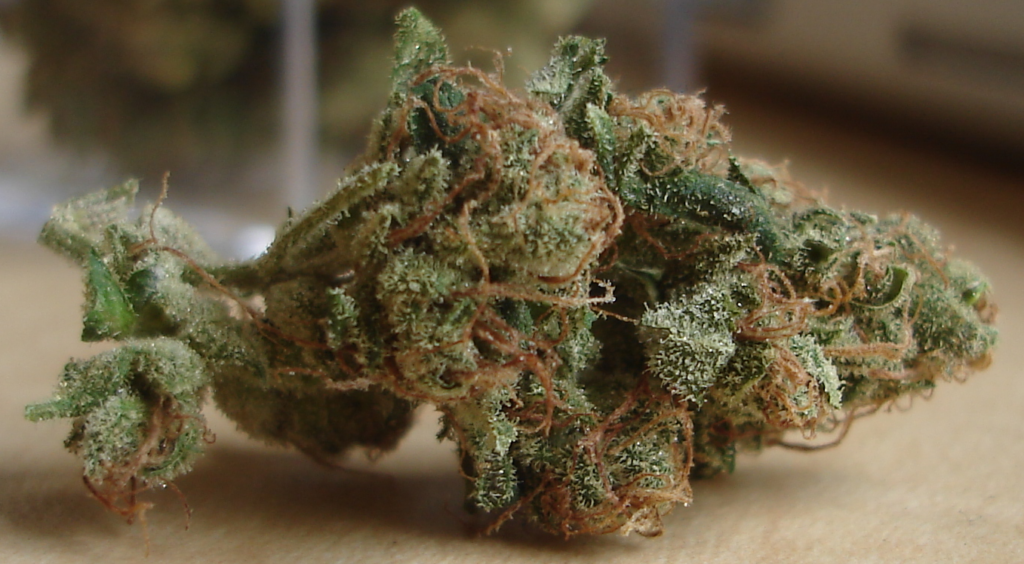 The Sour Diesel is not a new strain by all means. It dates back to the 90s and is one of the more popular ones today. With the rise of vaping popularity, it too has become one of the commonly vaped strains. Its name derives from the fact that it has a strong citrus taste and smells like high octane fuel.
When consumed, the Sour Diesel acts fast. It can lift your spirit in an instant and provide a high energizing effect. It is very beneficial for medical purposes as it offers a long-lasting effect against depression and anxiety.
Granddaddy Purple
The Granddaddy Purple is an Indica dominant strain coming from California. It is a hybrid between Big Bud and Purple Urkle. The GDP is a very complex type of a strain as it has an aroma that combines grapes and berries, with a slight sweetness to its flavor.
GDP can have a really strong effect on both the mind and the body. You get a combination of euphoria and relaxation at the same time. This is also the main reason why it is good at dealing with pain for medical purposes.
Afghan Kush
The Afghan Kush is a popular cannabis strain that draws its origins from the Hindu Kush Mountain range, located near the border between Pakistan and Afghanistan. The strain has been around for a while now and has drawn many people to it already.
Afghan Kush is a pure Indica strain and vaping it allows you to relax. It may increase your appetite, so be ready for that. But otherwise, it is also very suitable for dispelling insomnia.
Lemon Haze
Lemon Haze is dubbed that way because it smells like freshly peeled lemons. This is a Sativa dominant strain and is rich in THC which counts to up to 15% to 20%. Lemon Haze is one of the best strains that you can use for recreational purposes. It provides relaxation and euphoria.
On the medial side of things, Lemon Haze has been known for being able to counter the effects of stress and depression. But actually, it does not function as a good pain reliever despite the high THC concentration.
Durban Poison
Durban Poison is a South African cannabis strain and is recognized for its powerful psychoactive effects. As far as the flavor is concerned, it has this earthy and piney smell and aroma to it which is really pleasant when consuming it. Whether you smoke it or vape it, Durban Poison will improve your mood and will hit on the creative side. Your social ability will also be on high.
When it comes to medical usage, the Durban Poison is great in helping out with stress. But it is also good at treating headaches, pain, and fatigue. All in all, it is a good way to relax by vaping some Durban Poison.