Headband OG Cannabis Strain Review
The Headband OG strain is actually a great one that immediately promises potential. It is a cross between OG Kush and Sour Diesel, which already gives it a good reputation and something really nice to expect from it.
The bud already smells really good when you crack open the container and it is all due to the crossbreeding of the two aforementioned cannabis strains. Both OG Kush and the Sour Diesel are among the most popular cannabis strains and most used ones.
Combining them to create the Headband OG strain was definitely a good idea. The name actually comes from the effects the strain has. It actually puts a sort of tension on your head, like wearing a Headband OG. The effects also come slower, but they are supposed to come strong.
But let's cover the smell, the appearance, and the effects and see it for ourselves.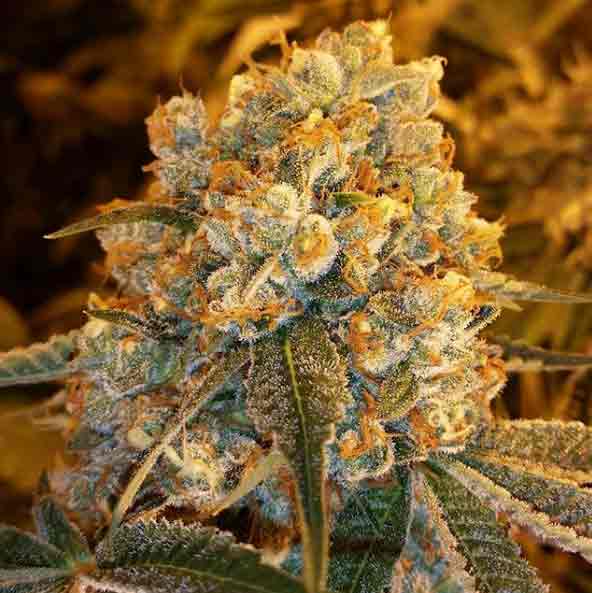 What does the Strain Look Like?
We have a really good sample bud of the Headband OG cannabis strain. It is very beefy and is really nicely compact without being compressed. But when processing on it you will feel a little bit of gib.
The number one thing to notice is definitely the fact that the bud is really frosty. The trichrome coverage makes it look like it has been snowed on. The Headband OG strain is dripping with trichomes and crystals and it is much more than the pistols. So the vibrant orange hairs that you are used to seeing as a big feature are barely seen here. They are actually wrapped in trichomes like the rest of the bud is.
Also, the trim job is really good and you can see that the bud has been grown well. It definitely looks like a top-quality strain based on the appearance.
As far as color goes, it has a uniform color to it. The Headband OG cannabis strain looks light green which is due to the fact that it is being made lighter by the trichomes.
So generally speaking, this is a really great looking sample.
The Smell of the Strain
You might have expected a really gassy smell coming off of the Headband OG weed. But the smell is not as apparent as you would expect it to be. Both the parent breeds have a really earthy, cushy smell that this one lacks. There is actually little to no cannabis strain smell whatsoever on the initial whiff. You can actually have it out on the table and you would hardly smell it.
But when we open it up, Headband OG gives off more of the gassy flavor (just like Sour Diesel BX2) that you would expect to get. You get a really light, delicate, and complex cannabis scent. It is encompassing some of the gassiness but in a very light way.
There are a really fresh scent and a kind of an after scent that you would get by whiffing the Sour Diesel strain.
The Headband OG marijuana strain is not a stinky strain and instead, it has a fresh and inoffensive cannabis scent.
How Does the Headband Og Cannabis Taste?
Trying the Headband OG strain through a bong gives us the flavor that we would expect from a strain that has so many trichomes on it. This intensity can be compared by consuming Star Dog through a bong. The hit is really an intense one and extremely delicious.
As with the smell, the same thing goes for the favor – there is not much of it. It is a really inoffensive, floral type of ascent. It is not what you would expect to get from a combination of the OG Kush and Sour Diesel, that is for sure.
The intensity level is high though. It leaves a kind of watery taste.
But what about the effects?
Headband OG Cannabis Effects
You will get that familiar stoned feeling with Headband OG strain that really feels good. It is definitely more on the Indica side.
It definitely offers the relaxation of the Indica strain. There is also a little bit of a different feeling on the head, so there is definitely some of the tightness that the Headband OG name promises.
In terms of strength, it is definitely strong. You will feel medicated and happy! It is not too much of a wasted feeling, which is good, but definitely relaxed. The happiness levels are rising and you will also feel functional to continue about your day.
Headband OG THC Content
Headband OG has a fairly high THC level that averages between 14-21%. It's not unusual for the THC content of the strain to shoot up to 24%. This high THC content makes the effects of it long-lasting. Many smokers report feeling the effects of Headband OG for hours after its use. The long-lasting effects of this strain make it popular among weed smokers of all ages.
Medical Uses for Headband OG
If you're wondering if Headband OG is good for anxiety, the answer is yes. When you smoke this strain, you feel a pleasant light pressure around the temples on your forehead, which is where Headband OG gets its name. This feeling is a result of the blood flow in this area that's often accompanied by a tingling sensation. This effect makes it good for relieving tension, which is often felt when anxious.
Headband OG helps with anxiety by inducing a happy and relaxed feeling. Other medical benefits associated with it include alleviating symptoms associated with:
Headaches and migraines
Insomnia
Muscle spasms
Body tension
ADD/ADHD
Is Headband OG Strain Sativa or Indica?
If you're wondering about the genetics of Headband OG, the strain is commonly listed as a Sativa by most dispensaries and seed banks. However, if you look closely at the Headband strain, its genetics are linked to Sour Diesel, OG Kush, and Master Kush, which strongly suggests the Headband OG strain should be classified as an Indica-dominant hybrid strain.
Where to Buy This Strain
Depending on where you live, you can find the Headband OG strain for sale at many local dispensaries. Finding a dispensary near you that sells the Headband OG strain can be done rather easily by doing some basic location-based research online. Simply conduct a search query for the Headband OG strain that includes your location.
Once you get search results that show you the dispensaries near you that sell this strain of weed, take the time to visit each of the top websites. Read about the strain's availability, the amount you're allowed to buy, and the cost. Then it's up to you to decide which dispensary to use. It's always best to buy weed from a dispensary that has a good reputation. Read some online reviews of the dispensaries you're interested in to ensure you choose the best one.
How to Grow Headband OG Strain
If you'd like to grow your own Headband OG strain of weed, you need to start by buying some feminized seeds from a seed bank. Feminized seeds are female seeds that will grow into bud-producing plants. There are many seed banks to choose from and most have websites. Simply find a seed bank you like that accepts the type of payment option you'd prefer and purchase your seeds.
Headband OG is an easy strain to grow. This strain prefers a moderate to warm climate with temperatures between 70 and 80 degrees Fahrenheit (21 to 26 degrees Celsius).
Outdoor Growing: If you live in a warm climate, you can grow it outdoors by placing one or two seeds in the ground in a sunny location. The seeds should be planted at a depth of about 1.5 to 2 inches (3.8 to 5 cm)
If you plant Headband OG seeds outdoors in the spring in a warm climate, it will be ready to harvest in mid-October. When growing this strain outside, it's important to shelter it from rain and make sure there is no frost that can harm or kill the growing plant.
Like all marijuana plants, this strain needs plenty of water. You can depend on the rainfall to water your plant if your planting area gets regular rain. Otherwise, give the plant water when the soil feels dry to the touch.
Indoor Growing: If you'd like to grow this strain of cannabis indoors, the flowering time is 9 to 10 weeks. This growing method involves planting one or two seeds in potting soil to a depth of about 1.5 inches. The seeds need light and warmth to sprout indoors so place the planted seeds on a sunny window ledge. Once the seedling sprouts, ensure the plant gets plenty of sunlight and warmth.
When growing Headband OG indoors, provide the plant with water about once per week. Don't overwater the plant so the dirt becomes soaked. You'll know it's time to water your plant when the soil is dry to the touch.
To Conclude
The Headband OG Cannabis strain is definitely something that you should try. Don't expect to get all the fun stuff that comes with its parent strains. The smell and the flavor that the OG Kush and the Sour Diesel are known for do not appear here. But the effects are very, veeeery strong and the feeling that you get will definitely keep you stoned and functionally happy at the same time.