Cannabis Edibles: A Perfect Start to Cannabis for Beginners!
Who knew cannabis would become the hottest talk of the town? Well, it has become one at a lightning speed, and everyone just can't stop talking about it. Folks worldwide are curious to learn, consume and become familiar with cannabis.
However, it is necessary to learn the basics about cannabis before getting started with it. There are various ways to consume cannabis, but the finest way remains cannabis edibles. Especially if you're a beginner opting for edibles is the ideal way to consume cannabis or medical marijuana for medicinal or recreational purposes.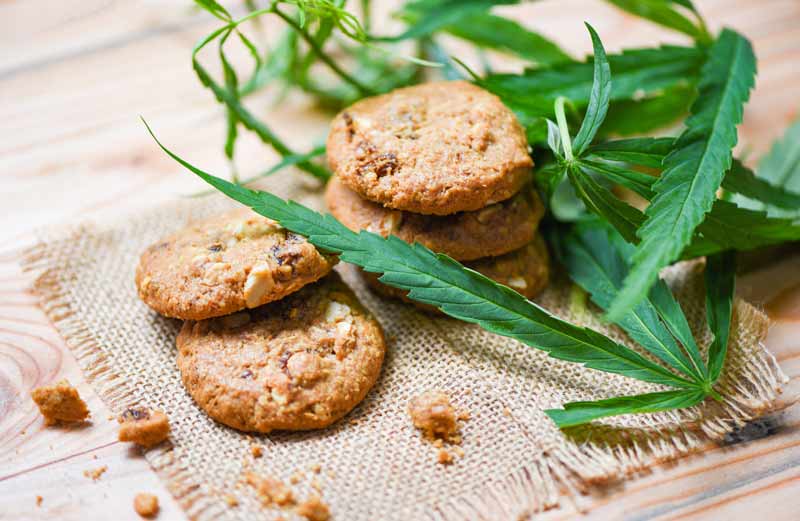 What do edibles exactly mean?
To put edibles exactly into words, food products infused with cannabinoids for gaining potential cannabis high and benefits are known as edibles. Edibles may consist of THC, CBD, or both. CBD cannot make you high, but when combined with THC, it offers a wholesome experience.
Edibles don't make you high instantly; instead, it takes one to two hours to hit. Apparently, it has a lasting effect on consumers with minimal or no side effects. Henceforth, edibles are a great way to get started with cannabis, especially if you're a newbie.
Popular Types of Cannabis Edibles
Edibles are a popular form of having cannabis and favorable one in the cannabis community to enjoy the high with a delicious taste. It comes within a crazy variety to help tokers enjoy a euphoric experience in tasty flavors. Let's look at some of its popular types:
Chocolate
Who doesn't love chocolates? To double the excitement for chocolate lovers, cannabis edibles come in these amazing chocolate bars that taste nothing less than heaven. These easy-to-consume chocolate bars are packed with the same goodness as that of weed. Chocolate lovers who've just stepped into cannabis can hop into these exceptionally delicious edible types perfected to gourmet levels.
Gummies
The chewy treats are amazingly fun to eat and assist in enjoying the high of weed. The most enticing thing about gummies is that it comes in a plethora of shapes and flavors. Whether you're a sucker for sweet or sour gummies, you can always find something to befit your taste buds in the gummies collection.
Candy
Candy or hard candy, whatever you like to call it, is also a marvelous pick from the cannabis edibles type. From blueberry flavor to strawberry, and other tasty flavors, you can get it in varying potency of THC-CBD. You may have it as cannabis hard candies, lollipops, lozenges, and suckers. Some cannabis enthusiasts also like to name it a dual-absorption product, which first gets absorbed through your mouth and later on through your stomach and liver. In addition, hard candies take up to 20 minutes in contrast to chewy candies, and chocolates that show effect in 45 minutes.
Baked Treats
When you start talking about ingestible cannabis, the first thought that comes to mind is baked goods. Without a doubt, the tasty marijuana treats are irresistible, especially when baked into something tasty like muffins, cupcakes, cookies, and so on. For the love of baking, these cannabis baked goods do justify themselves and make you experience highs and tastes that are out of the world.
Some like to experiment with baking cannabis with orange, vanilla, blueberry, chocolate, and other flavors for a terrific taste. You can also give it a shot and get some delivered to have a worthwhile experience to your doorsteps from CannaMobile- the most trusted online cannabis dispensary.
Beverages
The beverage is an indispensable part of our lives due to its ease of drinking and its energy-boosting effects. Cannabis producers have an effort to fit cannabis into our lifestyle with ease. On that account, they present drinkables such as teas, coffees, sodas, and more options for utter satisfaction. Also, one can be experimental with tinctures, liquid extracts, and oil that are also part of the beverages section, also are quick to absorb.
Why Edibles are better?
The edibles are the most favorable ones among different types/ methods of consuming cannabis, here are reasons that justify it:
1. Easy to Consume
Cannabis edibles are worldwide popular because of their easy consumption. Rolling a freshly joint or making an apple bomb for consuming cannabis may not be handy options for everyone. Having cannabinoids infused into ingestiable foods is way easier.
2. Good for Non-smokers
Often non-smokers give up on the idea of consuming cannabis thinking one has to smoke it. Edibles make it easier for them to get introduced to cannabis and not opt for any habit they don't intend to follow willingly. Edibles are indigestible food options often consumed orally.
3. Discreet
It is a perfect idea for the ones who are looking for a great experience without being noticed for consuming cannabis. Unlike other methods of consuming cannabis such as smoking, vaping, dabbing, topicals, bongs, and so on; edibles keep it secretive and let you enjoy your peace and high.
4. Easy to Handle High
Being a beginner, anticipating the high that cannabis will cause can be difficult. Cannabis edibles consist of less THC percentage (cannabinoid that causes psychoactive effects) which makes it smooth to handle. Consequently, edible is a wise choice to opt for first-timers or newbies.
5. Consistent Dosage
Last but not least reason to love cannabis is the ease of dosing. Edible is an ideal method to keep a track of the dosage and be remembered the dosage prescribed for both medicinal and recreational purposes. The amount of "High" one candy, gummy, cookie, or brownie has is enlisted on the labels so you can certainly decide how high you want to get.
Note: Be conscious of the dosage and quality of cannabis edibles you're consuming. Not every cannabis product in the market promises good results and premium quality, so be wise with your choice of cannabis.
Epilogue
All in all, cannabis edibles are a perfect start to cannabis. Edibles are the ingestinal foods consumed orally and preferred due to ease of consumption. Indeed, edibles are a safer option to carry while traveling or in social gatherings where they help you keep calm without making you evident of consuming one.
Lastly, remember to choose only quality edibles and ones that are lab-tested to enjoy potential benefits.
Resources:
https://cannamobile.cc/types-of-cannabis-edibles-you-must-know/
https://www.feastmagazine.com/sponsored/article_cf675a23-8941-50f4-aca8-b156aa7c5b9d.html
Writer Bio: Aradhna was born and raised in Chandigarh, India, where she grew her interest in writing. The art of words fascinated her, and the genesis of penning down words that cause echo started. She got fond of cannabis after getting familiar with its great effects that de-stress without becoming an addiction. To fulfill her curiosity about the holy grail plant cannabis, she explores her "eureka" moments every now and then. Aradhna wants to create awareness regarding the goodness of cannabis so that everyone can live a content life.